First Steps ----Created by Van Gogh in 1890.
This painting is Van Gogh's reproduction work based on Miller's painting which is in the same name. There is a rural farmland and a farmer's houses in this painting. At the righ side, a woman is helping her litter daughter to learn walking. And, at the left side, the girl's father is squatting on the floor with his arms open and encourage her to move forward.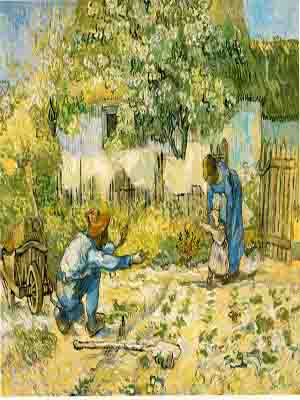 Although this is just the reproduction work after Miller, but it still reveals Van Gogh's personal style in the whole painting. The color of this painting is very bright. Van Gogh mainly used blue, yellow and green on it. These bright colors of nature make people feel the vibrant vitality. He made the thick black lines on people and objects, which are obviously influenced by the style of Japanese art. This kind of painting style makes this work look more tangible and real.
In addition, he also use the bending and rotating style while painting trees, shrubs and crops. This kind of skill is quite common in Van Gogh's matural painting works, which make the paintings look more vigorous.
The rural scenery appeared in "First Steps" makes people feel the real life of farmers, which is ordinary, but active and full of affection.
By Kevin from Xiamen Romandy Art Limited.
(Xiamen Romandy Art is rofessional Oil Paintings suppliers from China. If you want to convert your photos into high quality oil paintings, or you want the masterpiece oil painting reproductions, please don't hesitate to contact with us.)
Romandy Art Website: http://www.oilpaintingcentre.com
Email: romandyart@gmail.com
(Tag: Van Gogh's Painting Works of "First Steps", Oil Painting Reproduction in China)