Van Gogh(1853–1890) was a Dutch Post-Impressionist painter whose work had a far-reaching influence on the art of 20th century for its vivid colors and emotional impact.
Van Gogh's painting works of "Sunflowers" are among his most famous paintings, but few people know that he did many sunflower paintings, not just the most famous "Vase with Twelve Sunflowers" and "Vase with Fifteen Sunflowers." These were canvas paintings he created to decorate the Yellow House in Arles in anticipation of his friend Paul Gauguin's visit, and in the hope that other artists would follow and form a Utopian art community. Some of Van Gogh's sunflower paintings are all but indistinguishable, with only tiny differences to prove one reproduction is different from the next. During his stay in Paris, Van Gogh painted sunflowers in different stages of being, from fresh to wilted to dry.
Van Gogh appears to have brought his passion for sunflowers with him from his homeland in Holland wherever he roamed, and indeed, they make the kind of dramatic subject he loved. Around the world today, the sunflower is synonymous with Van Gogh's work, immediately recognizable and every bit as much his own as the water lilies belonging to Monet.
Van Gogh's "Sunflowers No. 2," the most famous sunflower still life, yellow on yellow, possesses the same universal appeal and impact of all his most beloved pictures. So widespread is the appeal of his sunflowers, in fact, that in 1987, a Japanese company paid a record of the equivalent of almost 40 million dollars for "Vase with Fifteen Sunflowers" at an auction. Van Gogh's many sunflower paintings are flung all over the world in testimony to his mastery, now residing in art galleries in Europe, London and Tokyo, to name a few.
During his stay in Paris, Van Gogh communicated with some of the greatest Impressionist painters of the period. These artists all had a great effect on one another, including Van Gogh, who was recognized as a formidable genius by "Les Vingt," Monet and Toulouse Lautrec, among others. One can readily discern the Paris sunflowers from the ones Vincent painted later, in the Yellow House at Arles, since they are cut flowers without vases. These cut sunflowers are depicted in various stages of wilting, but Van Gogh's final bright and bold color palette is evident at this point in his artistic development, permeating the pictures with life and joy.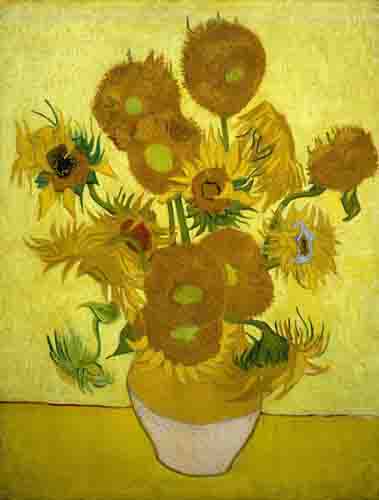 The master's influence on western art and artists cannot be overstated. Van Gogh's work bridged impressionism, expressionism, cubism and more with a unique language understood by all lovers of beauty and truth. The enormous popularity of a simple vase of sunflowers attests to his power and sincerity.
Though Van Gogh was plagued by a serious mental imbalance and eventually took his own life, he left over 2,000 canvas paintings, painted during about a decade, as a living legacy. Whether they represent his portrayals of living fields of wheat or swirling stars, tender and thoughtful portraits of the peasants he loved or starkly vivid flowers in a simple vase, his works all bear his own stylistic imprint. Seen as a superb form of communication of the spirit, Van Gogh's works succeeded beyond his wildest dreams to comfort and console humanity through art. It is through his paintings, not his over-romanticized, beleaguered life, that he should be judged as the poet, prophet and master artist he was.
Refer to: http://ezinearticles.com/?Analysis-of-The-Sunflowers---Vincent-van-Gogh&id=300570
Edited by Kevin from Xiamen Romandy Art Limited.
(Xiamen Romandy Art is rofessional Oil Paintings suppliers from China. If you want to convert your photos into high quality oil paintings, or you want the masterpiece oil painting reproductions, please don't hesitate to contact with us.)
Romandy Art Website: http://www.oilpaintingcentre.com
Email: romandyart@gmail.com
(Tag: Van Gogh's Painting Works of "Sunflowers", Oil Painting Reproduction in China)