"Persistence of Memory" is an oil painting created by the famous Spanish painting artist Salvador Dali in 1931. The original title of this painting was "La persistencia de la memoria". It depicts a fetus-like head lying on the ground, like a fish that wa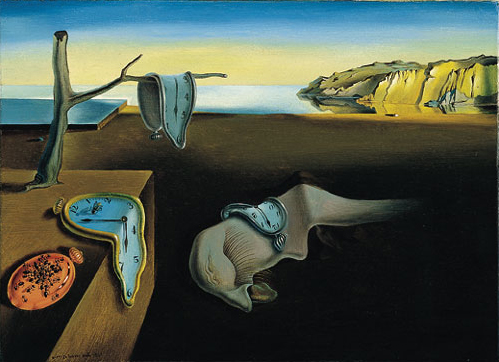 s washed ashore and now decaying after a lost struggle gasping for air. There are four watches in this painting, three of which appear to be molten, as if made out of cheese. The only watch whose structure doesn't appear to be malformed - unlike other watches it is orange in color, which is sitting on a desk-like object. The ants seem to have found a point of interest in the center of the orange watch.

The natural illumination in the painting tells us the time of day is either late afternoon around dusk or early morning around dawn. We know this because the band of yellowish light near the horizon line tells us the sun is just below the horizon line. The foreground is relatively dark compared to the distant horizon line. The colors in the painting are dark brown in the foreground sand, yellow in the rocky cliffs and horizon line, and aqua blue in the sky, the thin sliver of water in the background, and three of the four watches. Just like to be in a dream, these strange combinations of elements have the power to evoke feelings and psychological states not normally available to us in everyday experience. The world of this painting is ruled by an irrational order. It is disquieting and haunting. We return to the painting again and again to try to figure out the puzzle inside. But, as in a dream, no solution is offered.

The painting reveals Salvador Dali's surrealism painting style at his early career. Salvador Dali confessed that this painting was created based on his subconsciousness completely. He tried his best to record his subconsciousness precisely in this painting including his daydreaming . In order to seek this kind of surrealistic delusion, he ever went to bughouse to investigate the consciousness of patients. He thought that their words and actions are the most sincere reflection of subconsciousness.
By Kevin from Xiamen Romandy Art Limited.
(Xiamen Romandy Art is rofessional Oil Paintings suppliers from China. If you want to convert your photos into high quality oil paintings, or you want the masterpiece oil painting reproductions, please don's hesitate to contact with us.)
Romandy Art Website: http://www.oilpaintingcentre.com
Email: romandyart@gmail.com
(Tag: Persistence of Memory, Salvador Dali, Oil Painting, Surrealism Painting Artist, Masterpiece Oil Painting Reproduction.)