The Dream (Created in 1932 by Picasso, Oil on canvas 130x97cm)
In 1927, Picasso met Marie-Therese by chance on the street, who was 17 years' old and was with graceful figure and has magn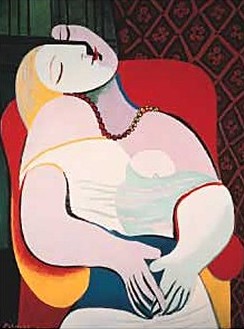 ificent blonde hairs. Since then, this girl had become the model of Picasso for his painting and sculpturing.
After another 17 years, the 64-year-old Picasso sent one birthday card to Marie-Therese and mentioned that "As far as I am concerned, today is my 17-year-old birthday. In the world, to meet you is just the beginning of my life."
This painting work "The Dream" is the most perfect embodiment of Picasso's pursuit on spirit and body.
Picasso said, 'A painting comes too me from afar; who knows how far; I divined it, I saw it, I did it, but even so , the next day, I cannot see what I have done myself. How can anyone penetrate my dreams, my instincts, my desires, my thoughts, which have taken so long to develop and to see the light of day, and comprehend what I have put into it, perhaps even against my will.' I think, this sentense helps us undertand this painting deeper.
Picasso is one of my favorite painters.
By Kevin from Xiamen Romandy Art Limited.
(Xiamen Romandy Art is rofessional Oil Paintings suppliers from China. If you want to convert your photos into high quality oil paintings, or you want the masterpiece oil painting reproductions, please don's hesitate to contact with us.)
Romandy Art Website: http://www.oilpaintingcentre.com
Email: romandyart@gmail.com
(Tag: Appreciation of The Dream--Picasso Oil Painting)