Thinking about the painting history, America should be proud of her painters - For three centuries the strongest artists have expressed American thought and life - Their canvases constitute a pictorial autobiography of America. The native Americans have been expressing themselves in art for centuries. The craft of painting has taken on many different incarnations among Native peoples, from the earliest petroglyphs and pictographs, to paintings on animal hides, to contemporary fine art paintings.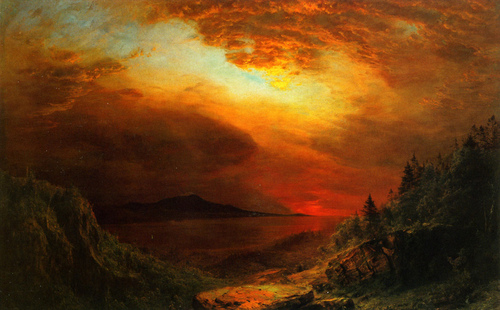 1. Headwater stage:
The first views of America are created to satisfy European curiosity - Then portraitists record social ideals - Colonials demand to be painted as if they were English lords - Gradu- ally they become proud to be themselves - By the time of the Revolution, democratic images predominate - Enter a genius who paints greater pictures than any he has ever seen.
2. World Sage:
As soon as American painters study abroad, they pioneer in European styles - Triumphs achieved by using Old World techniques to express New World ideas - American art flourishes on both sides of the Atlantic - A Pennsylvanian President of England's Royal Academy - Faces by Stuart
reflect the Bill of Rights.
3. High Horses and Saw Horses:
National independence brings cultural self-consciousness - Disastrous efforts to ignore America and import an artificial style - A fast starter collapses in mid-career - The President of the National Academy gives up art and invents the tele- graph - Only untutored painters dare be true to their own experience - Technique separated from content, American painting falls apart.
4.The Rediscovery of America:
Painters notice their own mountains and rivers - Long Island farmers and Ohio boatmen at long last considered suitable subjects for art - Picturesque Indians ride on canvas - American painting achieves new popularity and vigor, yet often the artists shout when more subtle workmen would whisper.
5. The morden master:
Here as abroad, new thoughts and circumstances call for a new style - American experimenters - Modern French art floods into the Armory Show - Painters struggle to find means of expression suited to twentieth-century America - Many fall by the wayside, but others find a hard and winding road to a new and personal art.
5. Toward the future:
Painters of "the lost generation" - Efforts to flee into a Middle Western Arcadia or a mathematical Eden - Visions of horror and visions of social change - The younger painters walk an ever-darkening landscape - A Pacific Coast poet and a Hoosier Jeremiah.
Edited by Xiamen Romandy Art Limited.
(Professional Oil Paintings suppliers from China. If you want to convert your photos into high quality oil paintings, or you want the masterpiece oil painting reproductions, please don't hesitate to contact with us.)
Romandy Art Website: http://www.oilpaintingcentre.com
Email: romandyart@gmail.com
Painting History of America