Analysis of Camille Pissarro's Painting Style:
Camille Pissarro's art career was a long and arduous search for the perfect method of expressing himself and his ideas indeed. Younger painters, beginning with Cezanne in 1882, Gauguin in 1877, and later Matisse and Picabia sought him out. Cezanne revered him, saying he was like father to him. Mary Cassatt thought he was such a great teacher he could have taught the stones to draw well.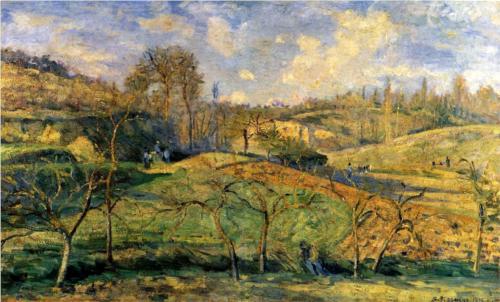 Pictured above: March Sun, Pontoise Painted by Pissarro in 1875.
From Pissarro's earliest painting career in St Thomas to his death in 1903, Camille Pissarro's Painting Style and method were in continual state of flux. As the art historian Mr.Jonh House has said, "to chart Pissarro's stylistic evolution.. we meet in turn Corot, Daubigny, Courbet, Jongkind, Monet, Cezanne, Renoir, Millet, Seurat, Turner, and Monet again." Although Camille Pissarro was the oldest of the Impressionists, he never ceased assimilating the work of others in an artistic evolution which is unparalleled among his contemporaries.
In the late 1850s and early 1960s, the Salon and French art world were in a deep debate about the acceptability of Daubigny's sketchy 'plein-airisme' and the consequences of Courbet's realism. Having succeeded on the much safer ground of Corot, Camille Pissarro then began to appreciate the attempts made by Daubingy and Courbet to paint what they saw and wanted to see. At the age of twenty-nine Camille Pissarro met Monet, and soon became part of a new generation of artists fired by the example of Courbet and Daubigny, inpatient with the academic landscape.
Pictured above: Landscape near Louveciennes Painted by Pissarro in 1870
Camille Pissarro's talent clearly lay in the reality of nature and agriculture, in landscapes with figures - what one critic has called humanist landscape - not social realism, although the two could combine successfully to a certain extend in his 'Railway bridge at Ponoise' of 1860, and yet prove stilted and sentimental in 'Donkey ride at la Roche-Guyan' .
The result in artistic terms of Camille Pissarro's exile in London, was a freer handling of brighter pigments, using the softly applied patches of color which Monet had been developing since La Grenouillere and was now employing to great effect in his views of the Thames. Compared to Monet, who was now beginning to approach Impressionism 'par excellence', Camille Pissarro's ongoing debt to the first of his mentors, Corot, as well as to Daubigny and Corbet is still evident in 'The avenue, Sydenham'. Solidity and consonance of composition characterize his work in comparison to Monet's search for "fugitive effects" in light and water.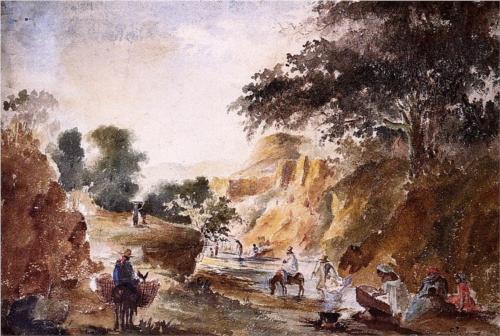 Pictured above: Landscape with Figures by a River Painted by Pissarro in 1853.
Meanwhile, Camille Pissarro's interest in the human figure, especially the peasant women who where so much a part of the landscape, had come to dominate his work as fundamental expression of his humanism. The web of comma-like brush-strokes which had now become his trademark seemed to have reached its logical conclusion and he was looking for a new ways of painting. Impressionism seemed to have had its day; Renoir for example had recently found himself in a similar stylistic dead-end and was developing an overtly linear, Neo-Classical style; years before, Cezanne had abandoned a softer vision of the world and was absorbed in lines, volumes and planes.
Camille Pissarro met the young Georges Seurat who was developing a new technique, Divisionism, based on several theories. Pissarro had too read the new colour theories proposed by the American colour theorists Charles Henry and Ogden Rood, and with Paul Signac he found common cause in Seurat's juxtaposition of small dots of pure pigment to create the forms of a painting. "I am totally convinced of the progressive nature of this art, " he wrote, and certain that in time it will yield extraordinary results. I do not accept the snobbish judgment of romantic Impressionists in whose interest is to fight against new tendencies. I accept the challenge, that's all.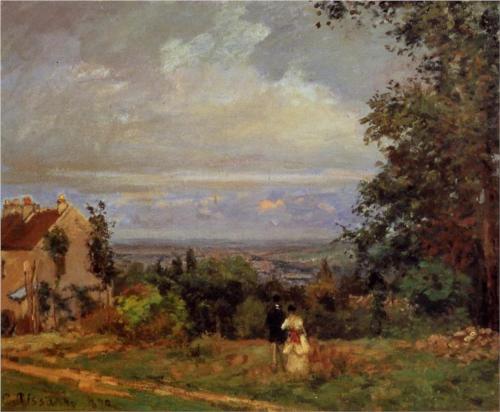 Pictured above: Red Roofs, Corner of a Village, Winter Painted by Pissarro in 1877.
The tedious physical process of painting in what was variously called the Neo-Impressionism, Pointillism, or Divisionist technique of dots took its tool on Pissarro and reduced the number of canvases which he could finish.
Camille Pissarro abandoned the limitation of Divisionism in 1890 and began a phase of painting urban and quayside landscapes in Paris, Rouen, Le Havre, and Dieppe, as well as in London. The years between 1889 and 1890 were perhaps the most productive of his life. (Analysis of Camille Pissarro's Painting Style)
Biography of Camille Pissarro:
Camille Pissarro (10 July 1830 – 13 November 1903) was a Danish-French Impressionist and Neo-Impressionist painter born on the island of St Thomas). His importance resides in his contributions to both Impressionism and Post-Impressionism. Pissarro studied from great forerunners, including Gustave Courbet and Jean-Baptiste-Camille Corot. He later studied and worked alongside Georges Seurat and Paul Signac when he took on the Neo-Impressionist style at the age of 54.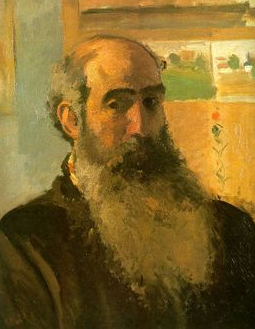 In 1873, Camille Pissarro helped establish a collective society of fifteen aspiring artists, becoming the "pivotal" figure in holding the group together and encouraging the other members. Art historian John Rewald called Pissarro the "dean of the Impressionist painters", not only because he was the oldest of the group, but also "by virtue of his wisdom and his balanced, kind, and warmhearted personality". Cézanne said "he was a father for me. A man to consult and a little like the good Lord," and he was also one of Gauguin's masters. Renoir referred to his work as "revolutionary", through his artistic portrayals of the "common man", as Pissarro insisted on painting individuals in natural settings without "artifice or grandeur".
Camille Pissarro is the only artist to have shown his work at all eight Paris Impressionist exhibitions, from 1874 to 1886. He "acted as a father figure not only to the Impressionists" but to all four of the major Post-Impressionists, including Georges Seurat, Paul Cézanne, Vincent van Gogh and Paul Gauguin.
During the period Camille Pissarro exhibited his works, art critic Armand Silvestre had called Pissarro the "most real and most naive member" of the
Impressionist group. His work has also been described by art historian Diane Kelder as expressing "the same quiet dignity, sincerity, and durability that distinguished his person." She adds that "no member of the group did more to mediate the internecine disputes that threatened at times to break it apart, and no one was a more diligent proselytizer of the new painting."
According to Camille Pissarro's son, Lucien, his father painted regularly with Cézanne beginning in 1872. He recalls that Cézanne walked a few miles to join Pissarro at various settings in Pontoise. While they shared ideas during their work, the younger Cézanne wanted to study the countryside through Pissarro's eyes, as he admired Pissarro's landscapes from the 1860s. Cézanne, although only nine years younger than him, said that "he was a father for me. A man to consult and a little like the good Lord."
Lucien Pissarro was taught painting by his father, and described him as a "splendid teacher, never imposing his personality on his pupil." Gauguin, who also studied under him, referred to Pissarro "as a force with which future artists would have to reckon". Art historian Diane Kelder notes that it was Pissarro who introduced Gauguin, who was then a young stockbroker studying to become an artist, to Degas and Cézanne. Gauguin, near the end of his career, wrote a letter to a friend in 1902, shortly before Pissarro's death. (Analysis of Camille Pissarro's Painting Style)
Edited by Kevin from Xiamen Romandy Art Limited.
Founded in 2001, Xiamen Romandy Art Co., Ltd. is one of the leading oil painting galleries engaged in the production of handmade oil paintings in China. Our high quality products and excellence in service have helped us to enjoy a high reputation among our clients. Our overall goal is to continue to improve the quality of our products and service in the future.
Tags: Analysis of Camille Pissarro's Painting Style, Camille Pissarro Painting Method.