After 15 years, a stolen Rembrandt Harmenszoon's oil painting "Child with a Soap Bubble" (Value: $5.4 million) has finally been found:
According to the Agence France-Presse, local police in southeastern France seized the artwork "Child with a Soap Bubble" a source close to the detailed investigation said on Wednesday. Accredited to Rembrandt Harmensz van Rijn, the oil painting had been stolen from the Municipal Museum of Draguignan in 1999.
French police caught two men trying to sell the stolen famous oil painting, daily newspaper Libération reports. The unidentified men, ages 44 and 51, were arrested, and the curator of the museum was called in to identifying the artwork.
The Draguignan museum procured the oil-on-canvas painting in 1794, making it one of the institution's first artworks. Based on the the artwork's valuation at the time of the theft, the oil painting is worth about $3.9 million euros ($5.4 million) today, according to the AFP.
As The Connexion notes, "Child with a Soap Bubble," is attributed to the Dutch artist, but has not been confirmed as a Rembrandt Harmenszoon original and may have been completed by one of Rembrandt's students. Now that the oil painting has been found, studies may resume to confirm the true artist behind the artwork. (From News of Huff Post)
Biography of Rembrandt Harmensz van Rijn:
Rembrandt Harmenszoon van Rijn (Dutch:5 July 1606– 4 October 1669) was a Dutch painter and etcher. He is generally considered one of the greatest painters and printmakers in European art and the most important in Dutch history. His contributions to art came in a period of great wealth and cultural achievement that historians call the Dutch Golden Age when Dutch Golden Age painting, although in many ways antithetical to the Baroque style that dominated Europe, was extremely prolific and innovative.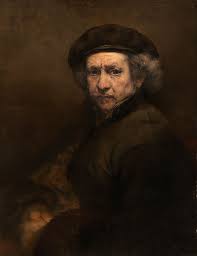 Having achieved youthful success as a portrait painter, Rembrandt's later years were marked by personal tragedy and financial hardships. Yet his etchings and paintings were popular throughout his lifetime, his reputation as an artist remained high, and for twenty years he taught many important Dutch painters. Rembrandt's greatest creative triumphs are exemplified especially in his portraits of his contemporaries, self-portraits and illustrations of scenes from the Bible. His self-portraits form a unique and intimate biography, in which the artist surveyed himself without vanity and with the utmost sincerity.
In his paintings and prints he exhibited knowledge of classical iconography, which he molded to fit the requirements of his own experience; thus, the depiction of a biblical scene was informed by Rembrandt's knowledge of the specific text, his assimilation of classical composition, and his observations of Amsterdam's Jewish population. Because of his empathy for the human condition, he has been called "one of the great prophets of civilization."
Edited by Kevin from Xiamen Romandy Art Limited.
Founded in 2001, Xiamen Romandy Art Co., Ltd. is one of the leading oil painting galleries engaged in the production of handmade oil paintings in China. Our high quality products and excellence in service have helped us to enjoy a high reputation among our clients. Our overall goal is to continue to improve the quality of our products and service in the future.
Tags: Stolen Rembrandt Harmenszoon's Oil Painting ($5.4 million) Found After 15 Years, "Child with a Soap Bubble".