Study for 'Cowherd at Eragny' Painted by Camille Pissarro in 1884: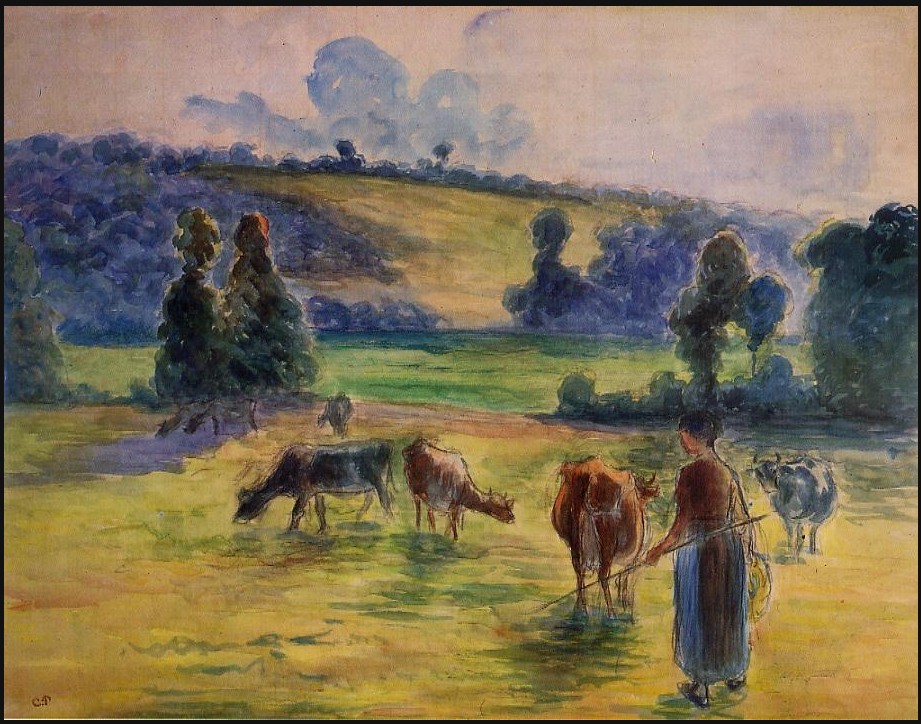 (If you want to reproduce this painting (Study for 'Cowherd at Eragny', Eragny-Camille Pissarro) in museum quality standard, please inform us through our Guest Book http://www.oilpaintingcentre.com/form/GuestBook/ or send email to us (romandyart@yahoo.com). We will do with our all-out efforts to provide you our museum quality paintings and reach your 100% satisfaction. Thank you.)
Information of "Study for 'Cowherd at Eragny'":
Artist: Camille Pissarro
Completion Date: 1884
Style: Impressionism
Genre: sketch and study
Technique: watercolor
Material: paper
Gallery: Private Collection
Biography of Camille Pissarro:
Camille Pissarro (10 July 1830 – 13 November 1903) was a Danish-French Impressionist and Neo-Impressionist painter born on the island of St Thomas). His importance resides in his contributions to both Impressionism and Post-Impressionism. Pissarro studied from great forerunners, including Gustave Courbet and Jean-Baptiste-Camille Corot. He later studied and worked alongside Georges Seurat and Paul Signac when he took on the Neo-Impressionist style at the age of 54.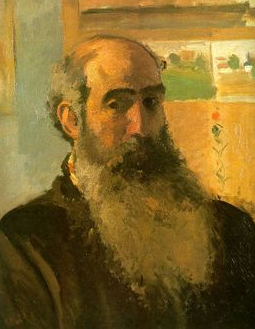 In 1873, Camille Pissarro helped establish a collective society of fifteen aspiring artists, becoming the "pivotal" figure in holding the group together and encouraging the other members. Art historian John Rewald called Pissarro the "dean of the Impressionist painters", not only because he was the oldest of the group, but also "by virtue of his wisdom and his balanced, kind, and warmhearted personality". Cézanne said "he was a father for me. A man to consult and a little like the good Lord," and he was also one of Gauguin's masters. Renoir referred to his work as "revolutionary", through his artistic portrayals of the "common man", as Pissarro insisted on painting individuals in natural settings without "artifice or grandeur".
Camille Pissarro is the only artist to have shown his work at all eight Paris Impressionist exhibitions, from 1874 to 1886. He "acted as a father figure not only to the Impressionists" but to all four of the major Post-Impressionists, including Georges Seurat, Paul Cézanne, Vincent van Gogh and Paul Gauguin.
During the period Camille Pissarro exhibited his works, art critic Armand Silvestre had called Pissarro the "most real and most naive member" of the
Impressionist group. His work has also been described by art historian Diane Kelder as expressing "the same quiet dignity, sincerity, and durability that distinguished his person." She adds that "no member of the group did more to mediate the internecine disputes that threatened at times to break it apart, and no one was a more diligent proselytizer of the new painting."
According to Camille Pissarro's son, Lucien, his father painted regularly with Cézanne beginning in 1872. He recalls that Cézanne walked a few miles to join Pissarro at various settings in Pontoise. While they shared ideas during their work, the younger Cézanne wanted to study the countryside through Pissarro's eyes, as he admired Pissarro's landscapes from the 1860s. Cézanne, although only nine years younger than him, said that "he was a father for me. A man to consult and a little like the good Lord."
Lucien Pissarro was taught painting by his father, and described him as a "splendid teacher, never imposing his personality on his pupil." Gauguin, who also studied under him, referred to Pissarro "as a force with which future artists would have to reckon". Art historian Diane Kelder notes that it was Pissarro who introduced Gauguin, who was then a young stockbroker studying to become an artist, to Degas and Cézanne. Gauguin, near the end of his career, wrote a letter to a friend in 1902, shortly before Pissarro's death:
"If we observe the totality of Camille Pissarro's work, we find there, despite fluctuations, not only an extreme artistic will, never belied, but also an essentially intuitive, purebred art ... He was one of my masters and I do not deny him."
The American impressionist Mary Cassatt, who at one point lived in Paris to study art, and joined his Impressionist group, noted that he was "such a teacher that he could have taught the stones to draw correctly."
(Study for 'Cowherd at Eragny' Painted by Camille Pissarro in 1884)
Edited by Kevin from Xiamen Romandy Art Limited.
Founded in 2001, Xiamen Romandy Art Co., Ltd. is one of the leading oil painting galleries engaged in the production of handmade oil paintings in China. Our high quality products and excellence in service have helped us to enjoy a high reputation among our clients. Our overall goal is to continue to improve the quality of our products and service in the future.
Tags:Study for 'Cowherd at Eragny' Painted by Camille Pissarro, Camille Pissarro Famous Paintings.