The Rape of Europa-Created by Albani Francesco- Florence Galleria Degli Uffizi Art: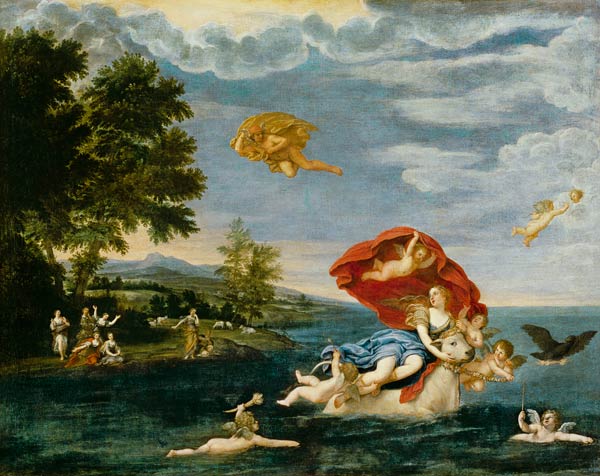 (Created in 1639, Oil on Canvas, 76.3*97cm , The Rape of Europa-Created by Putti and Hermes- It's in Galleria Degli Uffizi Florance) If you wan to reproduce this painting in museum quality standard, please send email to us: romandyart@yahoo.com .
In the early Renaissance, the story of Europa's abduction by Zeus as told in Ovid's Metamorpboses was one of the most popular subjects of Italian artists.
In this painting, Europa and the bull are accompanied by Putti and by Hermes, the messenger of gods. Europa's horrified companions remain on shore. Europa climbed on the animal's back and was carried over the sea to Crete.
Biography of Albani Francesco:
Francesco Albani (17 August 1578 – 4 October 1660) was an Italian Baroque painter who was active in Bologna (1591–1600), Rome (1600–1609), Bologna (1609), Viterbo (1609–1610), Bologna (1610), Rome (1610–1617), Bologna (1618–1660), Mantova (1621–1622), Roma (1623–1625) and Florence (1633).
Albani Francesco never acquired the monumentality or tenebrism that was quaking the contemporary world of painters, and in fact, is derided often for his lyric, cherubim-filled sweetness, which often has not yet shaken the mannerist elegance. While Albani Francesco's thematic would have appealed to Poussin, he lacked the Frenchman's muscular drama. His style sometimes appears to befit the decorative Rococo more than of his time.
Introduction of The Uffizi Gallery in Florence:
The Uffizi Gallery is a museum in Florence, Italy. It is one of the oldest and most famous art museums of the Western world. Building of the palace was begun by Giorgio Vasari in 1560 for Cosimo I de' Medici as the offices for the Florentine magistrates—hence the name "uffizi" . Construction was continued to Vasari's design by Alfonso Parigi and Bernardo Buontalenti and ended in 1581.
Today, the Uffizi is one of the most popular tourist attractions of Florence. In high season , waiting times can be up to five hours. Visitors who reserve a ticket in advance have a substantially shorter wait. Tickets can also be purchased from a lesser-used ticket window at the Orsanmichele that serves multiple museums.
In early August 2007, Florence was caught with a large rainstorm, and the Gallery was partially flooded, with water leaking through the ceiling, and the visitors had to be evacuated. There was a much more significant flood in 1966 which damaged most of the art collections in Florence severely, including the Uffizi.
Edited by Kevin from Xiamen Romandy Art Limited.
(Xiamen Romandy Art is a professional oil paintings supplier from China. If you want to convert your photos into high quality oil paintings, or you want the masterpiece oil painting reproductions, please don's hesitate to contact with us.)
Romandy Art Website: http://www.oilpaintingcentre.com
Tags: The Rape of Europa-by Albani Francesco- Florence Galleria Degli Uffizi Art