Mayan Procession Scene-Best Painting of all the Pre-columbian Civilizations-Fresco: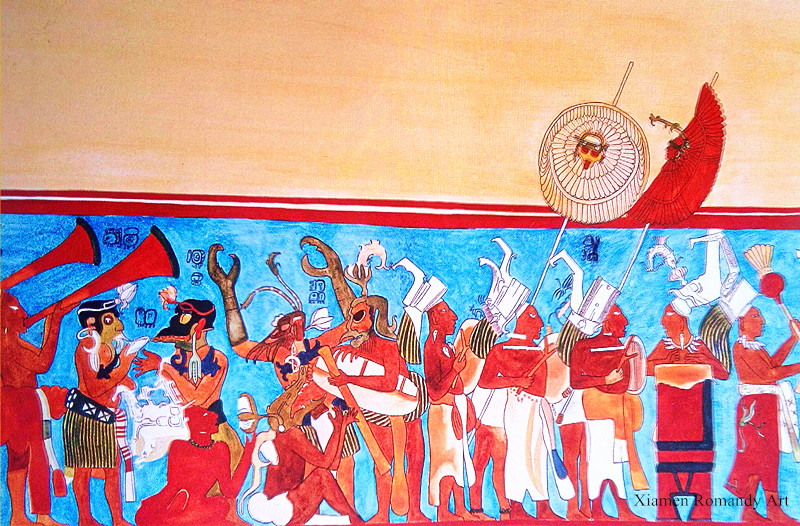 The Maya are generally consdiered to have been the most advanced of all the pre-columbian civilizations. The culture's beginnings have been traced back to 2000 BCE, and the civilizations's classic period is planced between 300 and 900 CE. The painting of Mayan Procession Scene is at Bonampak, a classic period satellite center subordinate to the one at Yaxcilan, in Chiapas, morden Mexico. This painting was painted by using a fresco technique, which means that they were painted on dry plaster. A full-scal reproduction of this painting can be found at the National Museum of Anthropology and history in Mexico City. (Mayan Procession Scene-Best Painting of all the Pre-columbian Civilizations)

The Maya people excel in the painting mainly in Ceramics, but the murals both in buildings and in caves, were also important to them, they use several vegetal as well as mineral colorants to perform their masterpieces as the brilliantly rendered murals at San Bartolo,

that constitute the most elaborate mythological scenes known for the ancient Maya. The mural is approximately 2000 years old, with more than 40 feet of this spectacular painting exposed, we are given a unique glimpse into the ancient mythology of the Maya. Other early examples of Mural painting are found in La Sufricaya and Uaxactún. They also painted their Temples in red and white, as well as the monuments. Recent investigations in the well preserved Rosalía Temple in Copán, have proved that in some buildings, the paint was mixed with Mica to make the buildings glitter in the sun, being Guatemala the only known source of this mineral in the Maya area, but it was used only in a Katún ending celebration, not in the regular maintenance and repainting. The Murals in San Bartolo and the Tombs in Río Azul are exceptional painting examples, that contain a wide range of colors, including the Maya Blue. (Refer to: http://www.authenticmaya.com/maya_art.htm)

Edited by Kevin from Xiamen Romandy Art Limited.
(Xiamen Romandy Art is a professional oil paintings supplier from China. If you want to convert your photos into high quality oil paintings, or you want the masterpiece oil painting reproductions, please don's hesitate to contact with us.)
Romandy Art Website: http://www.oilpaintingcentre.com

Tags: Mayan Procession Scene-Best Painting of all the Pre-columbian Civilizations, Fresco.