Seven Quick tips for abstract oil painting techniques:
1. Keep your painting composition as simple as possible.
2. Keep your colors as simple as possible. Start with two or three colors, explore their possibilities to their full extent, only add other colors if the painting needs it.
3. Work from big to small: first fill the whole canvas with a background.
4. Try out different gestures: 'feel' what they mean, and use these qualities.
5. Also 'feel' your way into different area's of your painting, and relate them to the way you feel your own body (it helps, when you work standing up).
6. If you want your painting to have 'body': don't cling too much to your first strokes. Paint like a construction worker, when you do a first layer, and paint over that without pain in your heart.
7. But when the painting has 'body', or you like a thin and ethereal look: hardly no effort can improve on the purity of the first stroke. (abstract oil painting techniques)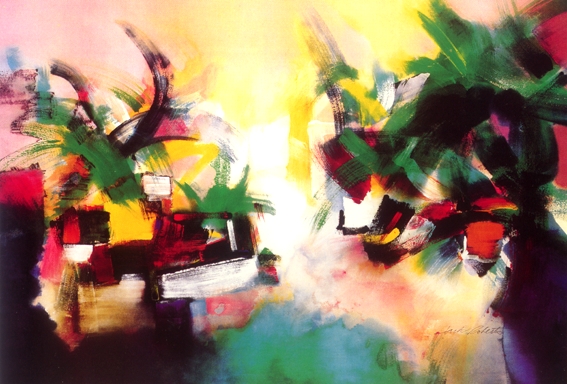 How abstract painting is abstract?
When you are painting, you always refer to something. If it isn't to the outside world, it is to your own body, or mood, something you know, or the idea you have in your mind while you are painting. My experience is: when you paint without having any subject in mind, you create a depiction of yourself, or the way you are or you are feeling at that moment. Sometimes even organs like the heart or the kidneys can be pointed out on a painting in that way. This body-thing is important, as in abstract painting techniques, you actually work with the thinking capacity of your own body. Just like the way that graffity-painters and dancers do. And: when you conciously relate to your paintings with your own body, you will enable your onlookers to do the same, and feel their way into your paintings. When you let go of the outer appearance of things, delivered by the eyes, the body is the first thing you have in common with your onlookers.
The human factor on abstract oil paintings:
We are humans, and for a painting to be beautiful or meaningful to us, it has to have some relation to what we are. Not all abstract painting painters are formal; Mark Rothko, an abstract colorfield painter, declared that he was in no way interested in form or the relation between form or color. He said, all he was interested in, was depicting basic human emotions like fear, love, exaltation and such.
Some abstract painters think that abstract painting techniques need to be disharmonic - but it doesn't have to be that way. A abstract painting can affect you in two different ways - one way is: luring you in with beauty, offering a space or a scene that you're free to respond to - or not. The oil painting doesn't do anything directly: it waits, untill you are ready to open your soul to that required level.
The other way to make an artwork impressive is by force - by presenting effects that are ugly, disharmonic or painful to look at. Uglyness is often a necessary ingredient for a good artwork. Some artworks however are uncomfortable or painful to look at, without offering any kind of solace or transformation. Some people actually find this kind of art really beautiful or impressive. And others wonder how an artist could possibly do that kind of stuff.
This is not about making judgments. It's necessary to deal with things that are cruel, not nice, or ugly. I like artworks that show a way of dealing with these facts of life. Like reality, art can't only be beautiful. It can't be only ugly either. What matters is, if it generates some special meaning - which is something beyond ugly or beautiful indeed.
Hope the above article of abstract oil painting techniques can be helpful for you. Thank you for reading.
Edited by Xiamen Romandy Art Co., Ltd.
Website: www.oilpaintingcentre.com