Tips on How to Choose Oil Paintings for home interior decoration:
Are you confusing while choosing the oil paintings for your interior decoration? Just read the three tips below. Maybe you can benefit from them.
1. Match the decoration style of room:
Oil paintings should be harmonious with the decoration style of your room, as oil paintings are the integral parts. For example, if you put modern abstract oil painting in the room which is European classical style, then it will make the overall effect become neither fish nor fowl. Generally speaking, the oil paintings of natural scenery, flowers, modern abstract style are suitable for the rooms which are bright and simple. While the realistic and classical style oil paintings are suitable for the rooms with dignified or colorful decoration style. As for the impressionist style oil paintings, they are generally suitable for different kinds of room, because of their nice colorful effect.
2. Choose the suitable size according to your room:
A common mistake is to acquire an oil painting that fits an empty space exactly. Please bear in mind that an oil painting needs space to be appreciated. Here is a tip for you: try to keep the size of the space that surrounds your painting as relative as you can to its size. For example, if your new painting is 24''*36'' make sure there at least 24'' wall space around it.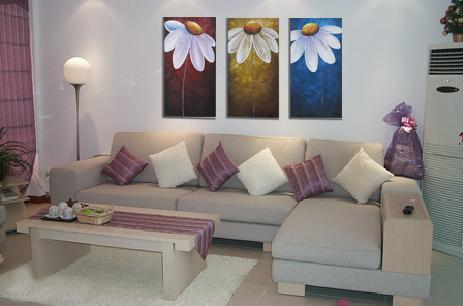 3. Create a theme according to your decoration style:
By creating a theme, you can maximize an oil painting's effect upon your interior decoration. While creating a theme, you should think as a gallery owner. Try to tell a story, which makes your audience look for the clues and the missing parts of the story you have designed for them, but, don't overdo it, as you know, enough is better than too much.
Hope the above tips would be helpful for you to choose the right oil paintings for your room.
By Kevin from Xiamen Romandy Art Limited.
(Xiamen Romandy Art is rofessional Oil Paintings suppliers from China. If you want to convert your photos into high quality oil paintings, or you want the masterpiece oil painting reproductions, please don't hesitate to contact with us.)
Romandy Art Website: http://www.oilpaintingcentre.com
Email: romandyart@gmail.com
(Tag: Tips on How to Choose Oil Paintings )